On Fridays, you may find many bloggers participating in STEM Friday or Poetry Friday.
Here is a book that covers both bases.
Hale, Christy. 2012. Dreaming Up: A celebration of building. New York: Lee and Low.
As a youth services librarian in a public library, I don't have the same type of interaction with children as a teacher or school media specialist might. I see more preschool than school-aged children, and though my goal is to "teach" the love of reading and the power of information, children and parents often come to the library seeking pleasure and entertainment. Teaching and learning moments are offered in the form of story time programs, book clubs, or crafts.
That's why a book like Dreaming Up is so perfect! Imagine a book that "teaches" architecture, concrete poetry, design, and the power of imagination. Now imagine that book is suitable for preschoolers up to grade 4, that it sparks opportunities for imaginative play, that it is factual (Architecture, DDC 720), that it is properly sourced, that it is multicultural, and yes - it's attractive,

too!
On the page facing each illustrated poem is a photograph of the famous or architecturally significant structure which inspired the poem. Featured buildings are from locations around the globe and include the Guggenheim Museum Bilbao in Spain, Petronas Twin Towers in Kuala Lumpur, Malaysia, and Frank Lloyd Wright's Fallingwater in Pennsylvania. Back matter includes information on each of the fifteen structures as well as biographical information on each building's architect.
No need to dream; the

re is such a book and it's Dreaming Up: A Celebration of Building. Go. Read it. Share it.
Get out some boxes, and blankets, and pillows, and playing cards, and Popsicle sticks and building blocks. Encourage the young people you know to "dream up."
STEM Friday may always be found at http://stemfriday.wordpress.com/ - use it as a great resource for children's books featuring Science, Technology, Engineering and Math.
We invite you to join us!
Write about STEM each Friday on your blog.

Copy the STEM Friday button to use in your blog post.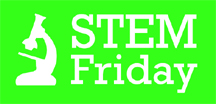 Link your post to the comments of our weekly STEM Friday Round-up. (Please use the link to your STEM Friday post, not the address of your blog. Thanks!)