If this is how the year is starting out, it's going to be a banner year for middle-grade books. First, Gordon Korman's Masterminds (more on that fantastic new thriller another day) and now Echo: A Novel.
Ryan, Pam Muñoz. 2015.
Echo: A Novel.
New York: Scholastic.
I received an Advance Reader Copy of
Echo
from Scholastic and was intrigued that it was wrapped in musical notation paper and had a smartly-boxed
Hohner Blues Band
harmonica tied to it.
I was happy to see an apparently music-related book, and was somewhat surprised to find that
Echo
begins with a fairytale, "The Thirteenth Harmonica of Otto Messenger," a fairytale replete with abandoned princesses, a magical forest, a mean-spirited witch, and a prophecy,
"Your fate is not yet sealed. Even in the darkest night, a star will shine, a bell will chime, a path will be revealed."
Though brief, I became enthralled with the tale and was surprised and taken aback when I reached Part One and found myself not in the fairytale forest, but in
Trossingen, Baden-Württemberg, Germany, 1933, home to the
world's oldest harmonica manufacturer
. I couldn't wait to find out what became of the abandoned princesses, but soon found myself wrapped up in the story of young Friedrich Schmidt, a German Jew during Hitler's ascendance to power. This kind-hearted, young boy of a musical family was surely destined to be gathered up in the anti-Semitic wave sweeping through Germany. I became engrossed in Friedrich's story, anxiously hoping that things would work out for him and his family, and was again surprised when I reached Part Two and found myself in
Philadelphia, 1935, home of the then-famous
Albert Hoxie and the Philadelphia Harmonica Band
, and of the Bishop's Home for Friendless and Destitute Children, where I found myself in the company of piano-playing orphans, Mike and Frankie Flannery. Their story was no less heart-wrenching than Friedrich's, and I found myself desperately rooting for the young boys when I suddenly arrived
in a migrant worker's community in Southern California, 1942, where young Ivy Maria Lopez was about to play her harmonica on the Colgate Family Hour radio show, but her excitement was short-lived. I fell in with this hard-working, American family and hoped, along with Ivy, for her brother's safe return from the war.
Of course, there's more, but this is where I will leave off.
Pam Muñoz Ryan has written a positively masterful story that will take the reader from the realm of magic through the historical travails of the oppressed and the poor in the midst of the 20th century. Through it all, music gathers the stories together in a symphony of hope and possibility. In music, and in
Echo,
there is a magic that will fill your soul.
It may only be February, but I predict that praise for
Echo
will continue throughout the year.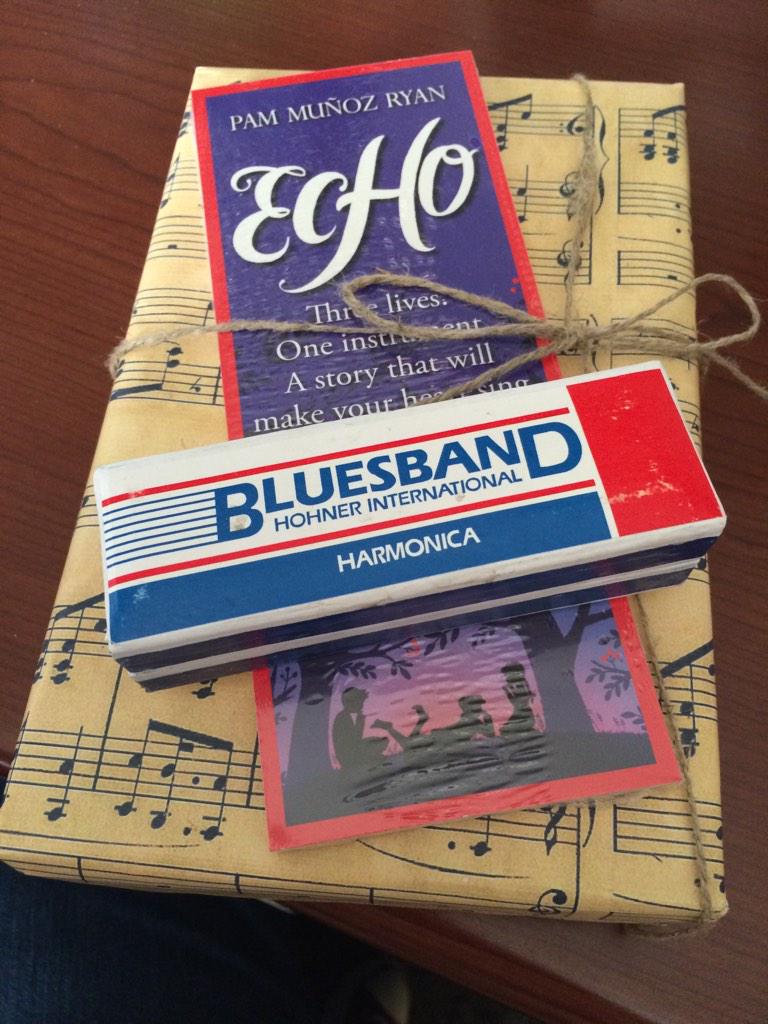 On a library shelf near you - February 24, 2015.